Parables, Olympusat's 24/7 network that delivers thought-provoking and inspiring content, will be presenting their brands and products to the Hispanic community at EXPOLIT 2016 in Miami, Florida, at booth #836.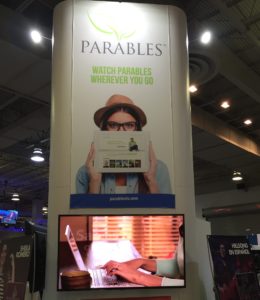 Since its inception in 2009, Parables is committed to deliver high-quality Christian-themed entertainment. As time has passed, the network's audience has steadily increased, enticed by thought-provoking movies, documentaries, series, children's programming and original productions. This year, Parables is looking to share the word of God with a wider audience, especially the Hispanic community.
"EXPOLIT is the ideal convention for Parables to develop new relationships with producers, distributors, and content providers," said Isaac Hernandez, VP of Parables. "We believe that the Hispanic community is seeking for good, family-friendly and Christian entertainment."
EXPOLIT, is the largest Christian booksellers, media, and music convention in the U.S. and Latin America. Every year the convention holds numerous workshops, seminars, concerts, and movies. This year the convention is taking place from September 15 to September 18, 2016 at the Miami Airport Convention Center (MACC), in Miami, Florida.
Editorial Contact: Jesus Piñango