Upliftv, the faith-based network that offers more inspirational movies and documentaries than any other faith channel and includes a variety of ministries and TV series, proudly presents The Inspirational Art of Thomas Kinkade, an Upliftv original production.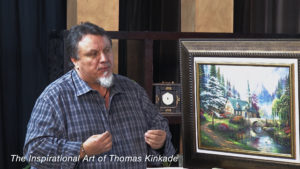 This Christmas season, The Inspirational Art of Thomas Kinkade, takes an inside look at the lifework of one of the most renowned painters in modern American history, Thomas Kindade. Each episode highlights two of Kinkade's most popular paintings, which often portray Kinkade's faith and spirituality.
"I'm excited to be featured on the Upliftv original production, The Inspirational Art of Thomas Kinkade," said Patrick Kinkade, host and brother of the late artist Thomas Kinkade. "It's heartwarming to share memories of my brother, who inspired so many in this world."
Known as the Painter of Light, Thomas Kinkade's talents spanned many genres. The artist was an accomplished public speaker and a top-selling author, who devoted his career to sharing an inspirational message of faith, nature, and family.
Starting this week, an episode of The Inspirational Art of Thomas Kinkade will air every Tuesday at 6:30 p.m. EST and Thursday at 2 p.m. EST. The paintings that will be featured during these special Christmas episodes are: Christmas Chapel, Christmas Cottage, Christmas Miracle, and Silent Night.
"Thomas Kinkade's art was meant to move and uplift the spirit, which is precisely why Upliftv wants to share it with its audience," stated Bob Higley, President of the Upliftv Foundation.
Upliftv is owned and operated by Olympusat, Inc., a leader in the Hispanic television and media space through its 100+ SD and HD Spanish and English language television networks, and it's currently available on DIRECTV.
To learn more please visit CapstoneLegacy.org or Upliftv.com.
VIA CHRISTIAN NEWSWIRE >> Upliftv Presents the Inspirational Art of Thomas Kinkade, the Painter of Light…
Press Contact: Jesús Piñango