Olympusat, Inc., the TV and media industry leader specializing in Spanish and English language TV networks, was in attendance at MIPCOM 2016, the world's entertainment content B2B trade event, where Yeshuah Castillo, Olympusat's VP of Original Productions, spoke about the importance of producing Spanish-language content that caters to the growing Hispanic population in the United States and Europe.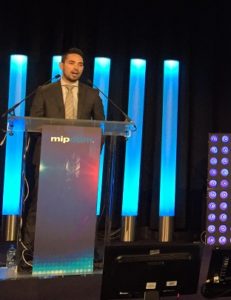 Castillo took this opportunity to showcase Ultra Clásico, Olympusat's HD Spanish-language channel comprised of digitally re-mastered movies from the Golden Age Latin American cinema. He also featured the company's film restoration process, and highlighted that Olympusat has restored hundreds of classics Spanish-language motion pictures, including La Escondida, and Nobleza Ranchera, among other films starring legendary stars such as María Félix and Pedro Infante.
"We scan, restore and correct the sounds, colors and imperfections that these films may have. It is an incredibly difficult process, but it is also very satisfying to finish each and every one of these films," stated Castillo.
Olympusat's classic movie restorations are currently being showcased across Europe. Iconic movies such as La Mujer Murciélago, Los Hermanos del Hierro, Santo y Blue Demon vs. Drácula y El Hombre Lobo, and La Maldición de la Momia Azteca¸ are being distributed in several European countries such as Austria, France, Germany, Poland, Switzerland and Sweden.
PRODU:
http://mobile.produ.com/noticias/141699?fbp=72711
http://mobile.produ.com/noticias/142077
MIPBLOG:
http://mipblog.com/2016/10/mipcom-report-carriage-deal-forum-show-tell/
Press Contact: Jesús Piñango
Read more →