VEMOX™, Olympusat's cost efficient and reliable B2B carrier-grade OTT platform, offers its audience the ability to watch the exciting and sizzling programming of Latin Angels TV, a 24/7 channel that features beautiful Latin American women at breathtaking destinations around the world.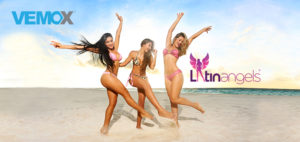 Latin Angels follows stunning bikini models, top actresses, and other famous Latino celebrities, as they as they set sail on an array of adventures to the most alluring and exotic beaches, including the white sand beaches of the Bahamas, and crystal clear waters of the Dominican Republic, as well other captivating locations in Puerto Rico, Jamaica, and Miami.
VEMOX is available for Amazon Fire TV and Fire TV Stick customers, and on many leading Smart TVs such as Samsung and LG. VEMOX is a trademark of Olympusat, Inc. All rights reserved.
Press Contact: Jesús Piñango